Welcome to Malataj Bagiwala (Wedding Horse Carriage Specialist)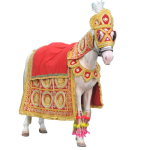 For your Wedding Day or that extra special occasion why not hire a beautiful, open, 4 wheel horse carriage. Malatajbagiwala.in is a friendly Family based organization that is dedicated to making your dream come true for your special day. Over 60 Years of Experience Malataj Bagiwala have been providing Horse & Carriages for Weddings Hire and Special Occasions since 1951. Malataj Bagiwala is available For Carriage Hire in all surrounding areas where a happy couple would like to be elegantly transported on their Wedding Day or special occasion.
We have 2 horse, 4 horse and 6 horse bagi's available in
Royal Maharaja

Dilwaley Bagi

Kohinoor 1 Bagi

Kohinoor 2 Bagi

British Royal

Patiala Red

Patiala Green

Vintage Victoria

Doli Bagi

A.C Bagi

Natural Kalash

Natural Ball

White Round

White Square

Navrang Mirror

Metal Rajwadi

Silver and Others
Malataj Bagiwala is a Family run business specialising in carriage hire for weddings, Religious ceremony, Birthday's and much more.
We pride ourselves on providing an affordable first class service to you our customers, we know for your special day you will want nothing but the best, old traditional values are the key to our service. A dignified and caring service with attention to detail is always assured, Add a touch of style and elegence to your special day and you will cherish the memory forever. Step abroad one of our breathtaking traditional horse drawn carriages, sit back and listen to the sounds of hooves strike the ground. Some famous personalities have obliged us by sitting in our carriages.
Contact Now
Also Contact us for Purchase bagi's and sell bagi's in a good rate
We believe to make a long-term relationship
Contact Now
Download App
You can download Android app from playstore and check all bagi's and send direct inquiry from app fast and easy
Click on button to download app
Download App